2N3904 is NPN transistor for general purpose application.
Part number : 2N3904
Functions : General Purpose  NPN Silicon Transistors
Package : TO 92 Type
Manufacturer : ON Semiconductor, NXP, Rohm
Image
Features
• Low collector saturation voltage
• Collector output capacitance
• Complementary pair with 2N3906
Applications
1. GENERAL PURPOSE APPLICATION.
2. SWITCHING APPLICATION.
As complementary type, the PNP transistor 2N3906 is recommended
ELECTRICAL CHARACTERISTICS
( Vceo = 40Vdc, Vcbo = 60Vdc, Ic = 200mA )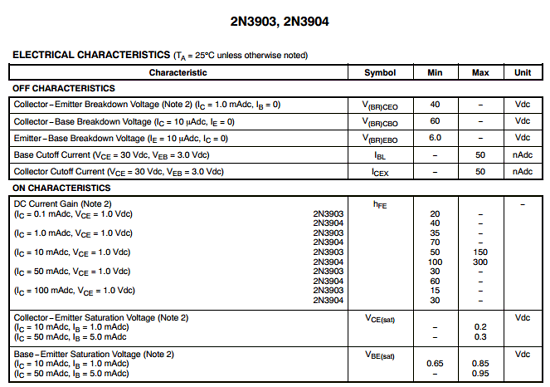 Stresses exceeding Maximum Ratings may damage the device. Maximum
Ratings are stress ratings only. Functional operation above the Recommended
Operating Conditions is not implied. Extended exposure to stresses above the
Recommended Operating Conditions may affect device reliability.
1. Indicates Data in addition to JEDEC Requirements.
Pinout
2N3904 Datasheet PDF
Other data sheets within the file : 2N3903, 2N3903RLRM, 2N3904G, 2N3904RL1
Related articles across the web