The 28BYJ-48 is a small stepper motor suitable for a large range of applications. This features is Wire leads with connector, Unipolar coil type, Permanent magnet gear motor.
Part number : 28BYJ-48
Package : Module Type
Functions : 5V Stepper Motor
Image :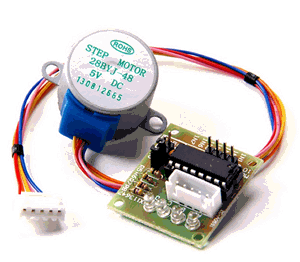 Product Information
Stepper Motor  is a motor controlled by a series of electromagnetic coils. The center shaft has a series of magnets mounted on it, and the coils surrounding the shaft are alternately given current or not, creating magnetic fields which repulse or attract the magnets on the shaft, causing the motor to rotate.
Pinout :

Features
Rated voltage : 5VDC
Number of Phase : 4
Speed Variation Ratio : 1/64
Stride Angle : 5.625° /64
Frequency : 100Hz
DC resistance : 50Ω±7%(25℃)
Idle In-traction Frequency : > 600Hz
Idle Out-traction Frequency : > 1000Hz
In-traction Torque : >34.3mN.m(120Hz)
Self-positioning Torque : >34.3mN.m
Friction torque : 600-1200 gf.cm
Pull in torque : 300 gf.cm
Insulated resistance : >10MΩ(500V)
Insulated electricity power : 600VAC/1mA/1s
Insulation grade : A
Rise in Temperature : <40K(120Hz)
Noise : <35dB(120Hz,No load,10cm)
Specifications
Coil Type:

Unipolar

Diameter – Shaft:

0.197″ (5.00mm)




Features

:

Flatted Shaft

Length – Shaft and Bearing:

0.394″ (10.00mm)

Mounting Hole Spacing:

1.378″ (35.00mm)

Size / Dimension:

Round – 1.100″ Dia (28.00mm)

key">Step Angle:

0.088°

Termination Style:

Wire Leads with Connector

Torque – Holding (oz-in / mNm):

16.66 / 117.68

Type:

Permanent Magnet Gear Motor

Voltage – Rated:

5VDC
Circuit ( 28BYJ-48 ULN2003 )


28BYJ-48 Datasheet PDF
Download Datasheet PDF : [ 28BYJ-48 ]
Reference site
BYJ48 Information : http://www.instructables.com/id/BYJ48-Stepper-Motor/